About Us
Experienced Real Estate Investment & Development Firm
Crow Holdings is a real estate investment and development firm established 75 years ago by founder and industry icon Trammell Crow. His original vision for the firm lives on today: a company imbued with a spirit of partnership, a culture of camaraderie, and a steadfast commitment to doing business with integrity. Crow Holdings is guided by the past, inspired by the future.
Trammell Crow develops the Dallas Market Center, establishing his reputation as a real estate innovator and leader in the trade mart space. In the decades that followed, the marts grew from one building to an extended network that, at its peak, comprised more than nine million square feet.
Like many of Mr. Crow's projects, the DMC evolved over time. Over the next three decades he added countless new concepts and expansions to create the Dallas Market Center, including the Trade Mart, Apparel Mart, Market Hall, InfoMart, and the World Trade Center – the first of its kind in the world.
The Dallas Market Center was one of Trammell Crow's proudest accomplishments, and one of the things for which he received the highest praise. "I have not done anything which has brought forth acclaim, compliments, words of honor, and all manner of such things as the development of the Dallas Market Center," he later wrote.
Still owned by Crow Holdings, the Dallas Market Center is a global business-to-business trade center and the leading wholesale marketplace in North America connecting retailers and interior designers with top manufacturers in home décor, furniture, gifts, lighting, holiday, and apparel & fashion accessories. Inside its dynamic, five million square foot campus near downtown Dallas, nearly 200,000 customers from all 50 states and 85 countries visit each year. These business owners seek industry trends, business education, and new products via open-daily showrooms and from exhibitors participating in trade events held throughout the year.
In 1973, Trammell Crow took his concept global with the Brussels International Trade Mart to serve as the wholesale marketplace for fashion, furniture, gift and decorative accessories retailers across Belgium. Its campus includes The Trade Mart and The Buro & Design Center and is home to over 700 wholesale showrooms. Encompassing almost 1.5 million square feet of permanent showroom facilities on a 38-acre campus, the Brussels International Trade Mart is one of the largest market centers in continental Europe.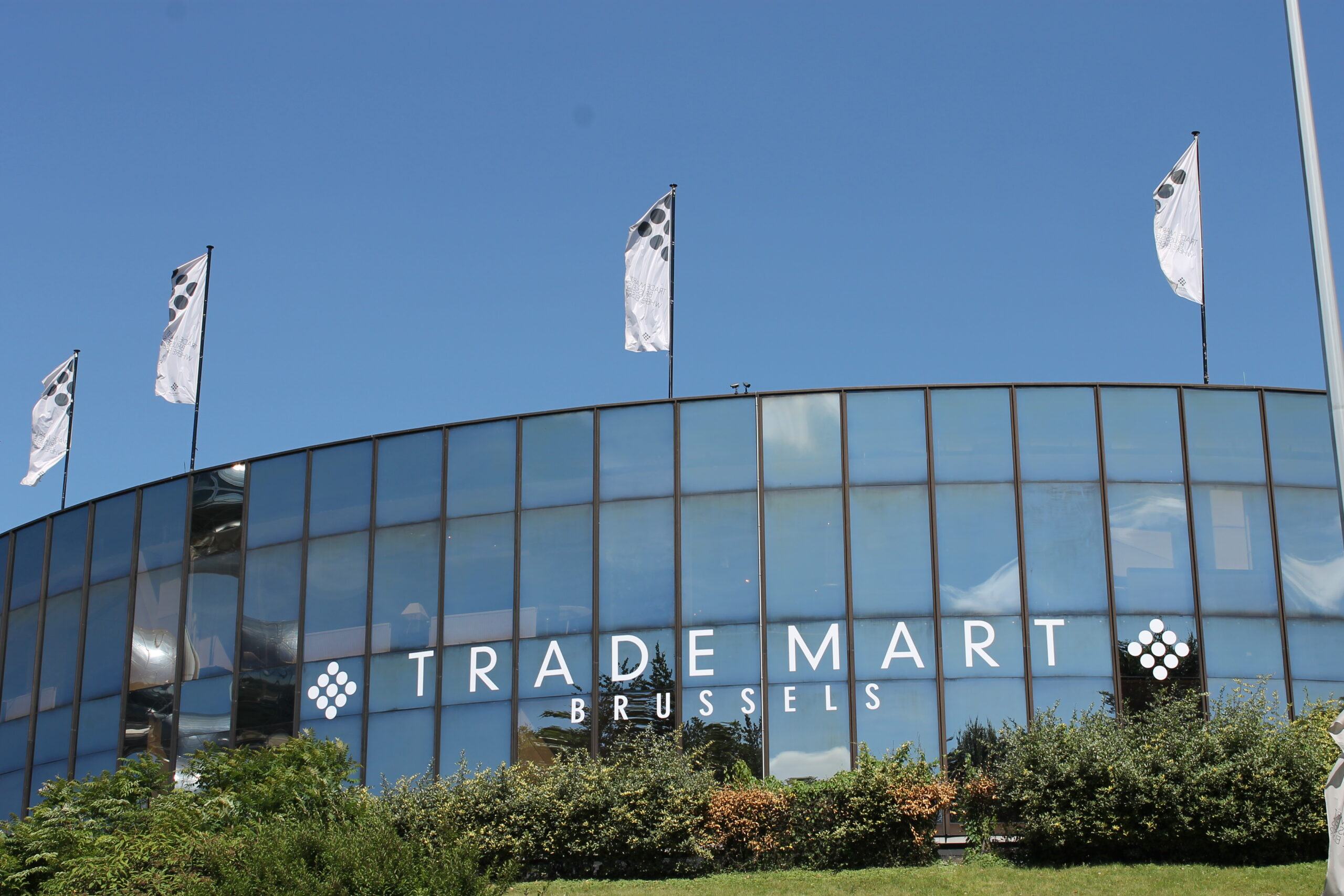 The Anatole Hotel was developed in 1979 on a 52-acre campus in Dallas. When first opened, the Anatole featured 900 guest rooms and a high-rise atrium.
Sill owned by Crow Holdings today, the Hilton Anatole features two atriums, a 27-story tower, and 1,606 luxuriously appointed guestrooms with first-class in-room amenities. The hotel offers more than 600,000 square feet of event space as well as one of the largest and most intriguing private art collections in a U.S. hotel.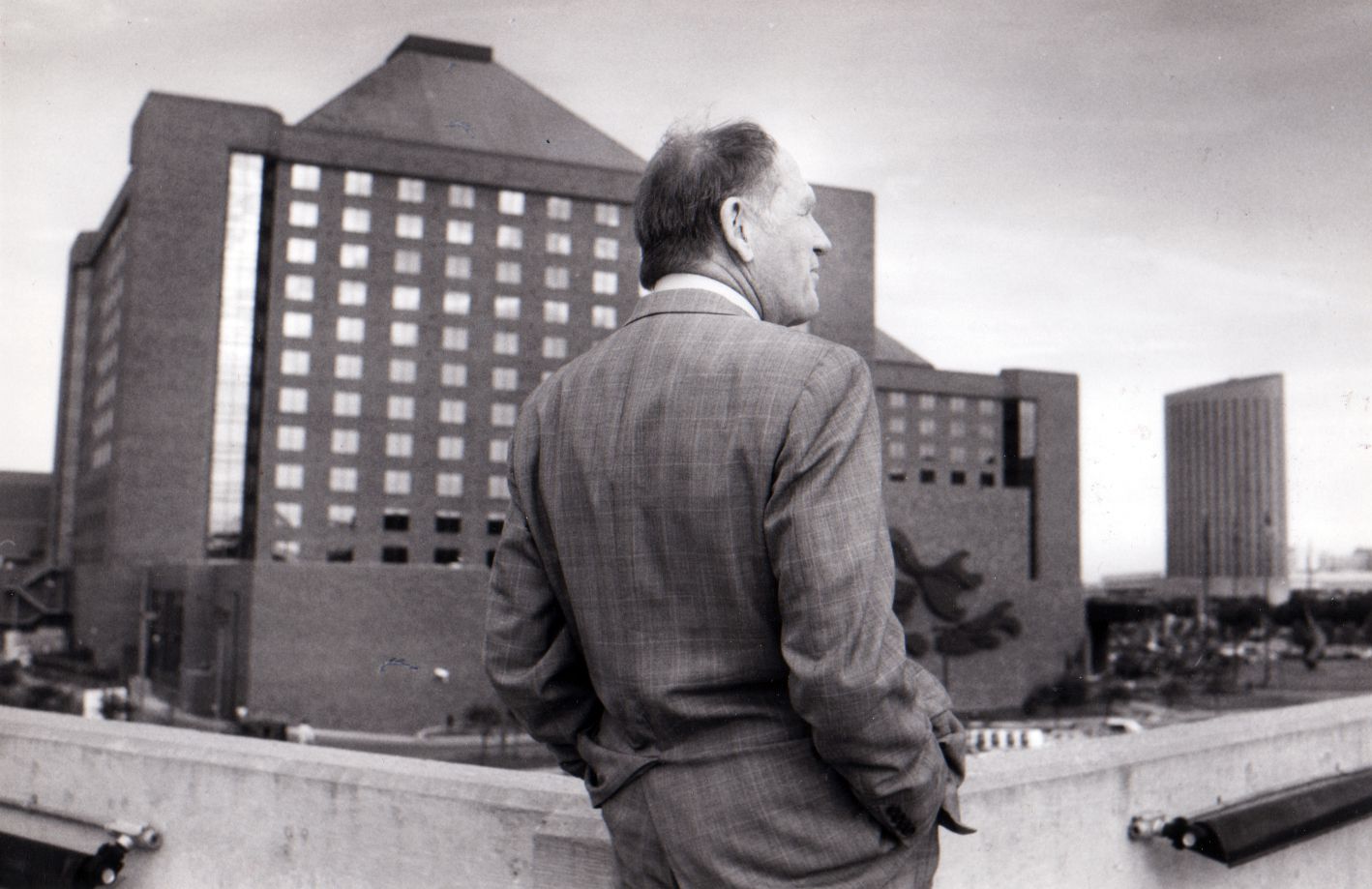 Located in Dallas, Texas, the Old Parkland campus was meticulously planned to inspire camaraderie among tenants, to encourage collaboration among businesses, and to provide a lush, collegiate-like setting as a counterpoint to the typical office park. Throughout the campus, interiors are luxuriously appointed with art and historic memorabilia, while the rich legacy of the grounds has been preserved and adapted to the modern needs of business.
Founded in 1894, at a time when Dallas was beginning to take shape as a city, Old Parkland served the community through two World Wars as a teaching hospital and innovator in medical technologies. While the hospital moved in the latter half of the 20th century to a new location, the original buildings remained in use for a variety of city and county services.
In 2006, Crow Holdings acquired the historic landmark with plans to preserve, renovate, and develop the almost 12.5-acre property as Dallas' premier office campus. When the beautiful restoration was completed in 2008, what had previously been just echoes of the campus's original luster would now be brought to stunning life. Walking the grounds provides a constant reminder of the past, alongside a persistent vision for the future.
In the years since Crow Holdings purchased Old Parkland, the campus's development has evolved organically. What began as a renovation project has grown into a full business campus with over 10 buildings spread across 12.5 acres, filled with lawns and shade trees, vibrant common spaces, and enough paintings and sculptures to fill a museum.
More than its physical beauty or historical legacy, what makes Old Parkland unique is the people who call it their professional home. In addition to serving as the headquarters of Crow Holdings, the campus serves nearly 150 companies and over 1,000 people. Tenants include public charitable foundations, financial services companies, and family offices.
From its inception to its modern makeover, Old Parkland has been rooted in a commitment to innovation and to the community.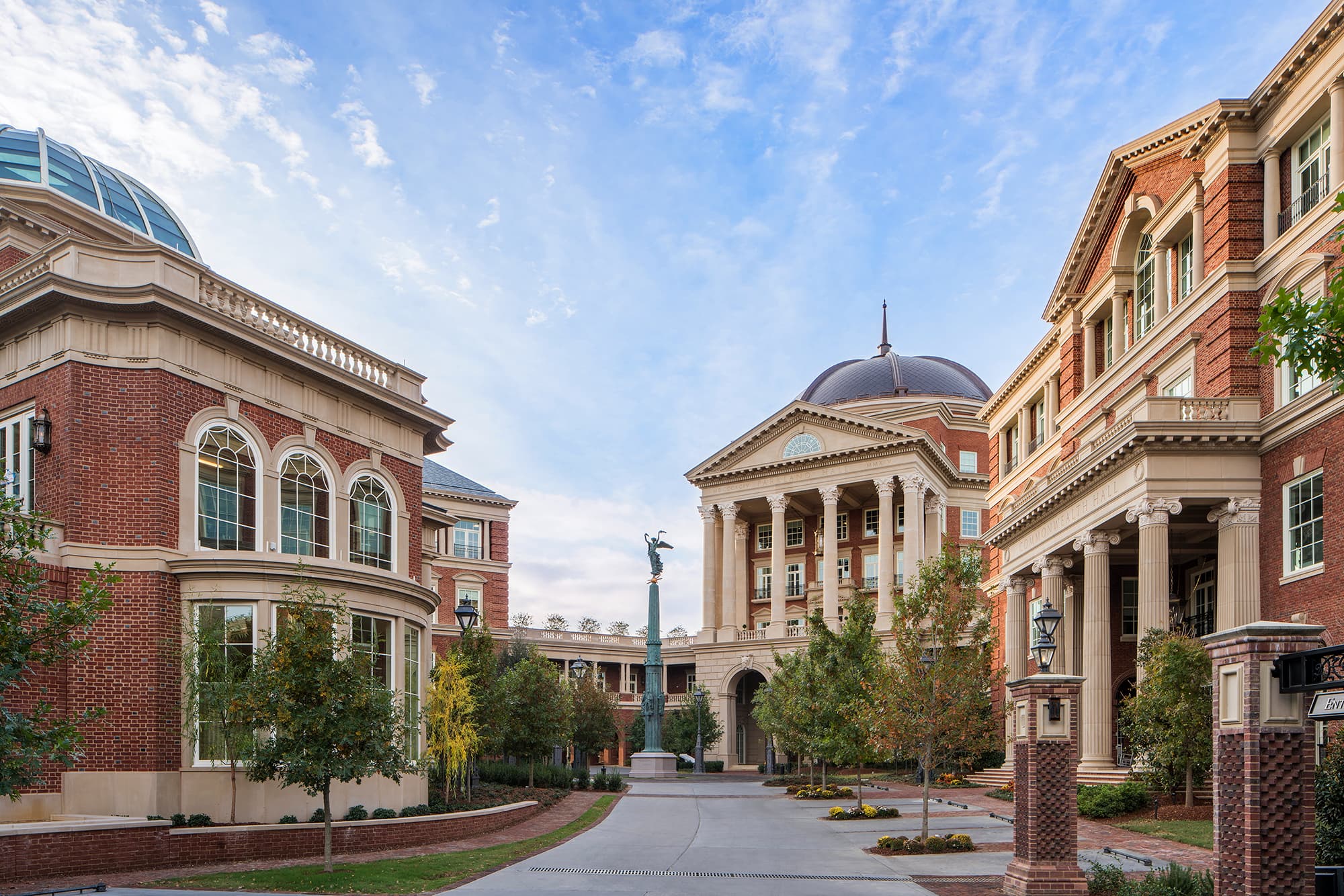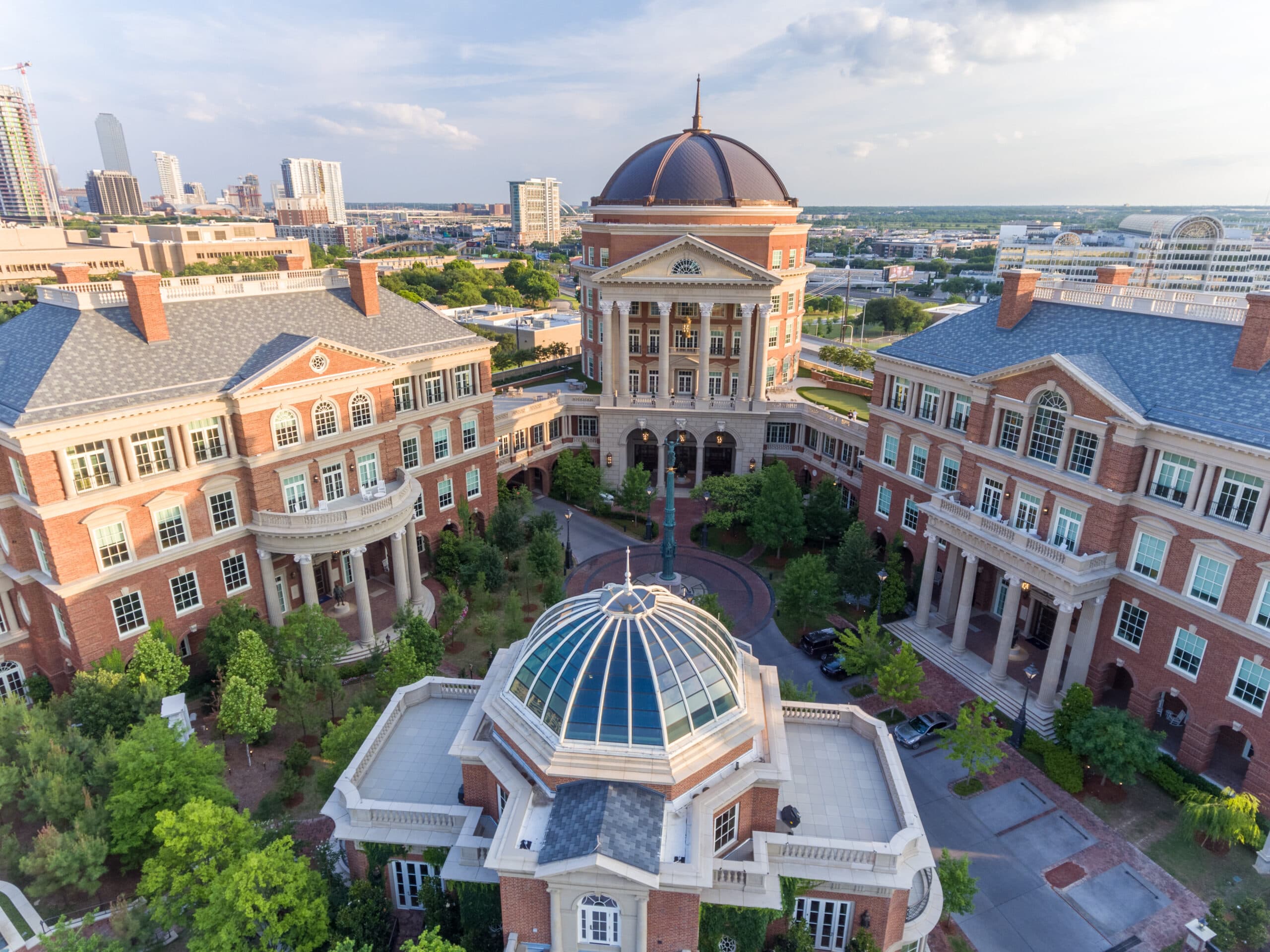 Partnership.
Collaboration.
Alignment.
From his earliest days as a developer, Trammell Crow sought partners who provided the land or capital that allowed him to pursue a vision. "Genuine partnership is the ideal business form," he said. "Sharing the efforts and the fruits, the risks and rewards. When embraced with full and proper spirit, it works magic." That spirit of partnership is intrinsic to Crow Holdings today, and alignment is the cornerstone of our foundation. There is a culture of long-term partnership and trust as we work with leading global investors through funds, co-investment opportunities, and joint ventures to pursue attractive real estate investment and development opportunities across the country.
SELECT PROPERTIES FROM OUR PORTFOLIO
Portfolio Highlights
From luxury multifamily communities to innovative logistics centers to high-quality attainable housing and more, Crow Holdings' properties provide real estate solutions and reflect a dedication to pinpoint execution.
SUSTAINABILITY
Building for a Better Future
Crow Holdings builds and invests with a sense of purpose and responsibility, to positively impact communities, driving social and economic value. Notably, the company recently launched Crow Holdings Renewables for the purposes developing community- and utility-scale solar energy and battery storage projects across the U.S. Also, the company weighs a variety of sustainability factors in connection with the acquisition, development, and ownership of its real estate properties. On development projects, we implement features that reduce energy use, lower costs, and promote green living, and the teams design and build to meet and exceed local and state green building standards. We understand the increasing importance of ESG to our investors, and we are focused on continuing to expand and improve our program. Our properties, and our specific strategies around attainable housing, are geared to meet this focus directly and with vigor.
In addition, our investment management team, Crow Holdings Capital, believes Environmental, Social and Governance ("ESG") considerations may impact investment outcomes. As a result, Crow Holdings Capital strives to focus on ESG throughout the investment lifecycle in order to invest with a sense of purpose and responsibility, to positively impact communities and to add social and economic value.
Sustainability and Environmental, Social and Governance ("ESG") is only one category of the many factors considered in making an investment. Although the Manager considers ESG related factors in its investment decision, the Manager remains non-concessionary in its approach to ESG. There is no guarantee investments will be made in assets that create positive ESG impacts while enhancing long-term value and achieving financial returns and there can be no assurance the strategy or techniques employed will be successful. Click here for more information.
COMMUNITY INVOLVEMENT
Making an Impact
"Do the right thing, because it's the right thing to do."

" "

- Trammell Crow